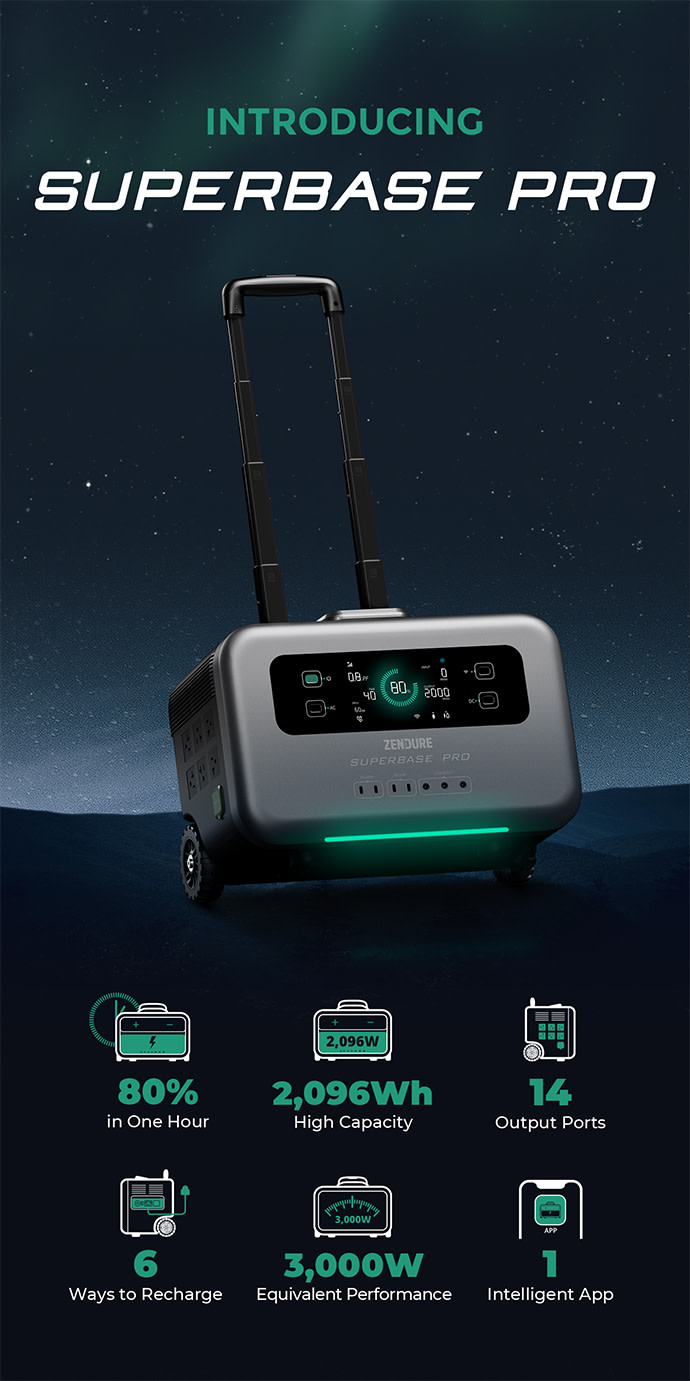 No one likes waiting around for their power station to charge up before going on an adventure. SuperBase Pro can be charged up to 80% in just one hour.
With our patented GridFlow technology, you can charge SuperBase Pro 2000 at up to 1,800W from an adequate AC outlet or generator. A full charge is just two hours away.
GridFlow unlocks superfast charging potential by taking advantage of Integrated AC Direct Charging (IACDC) using a Texas Instruments processor.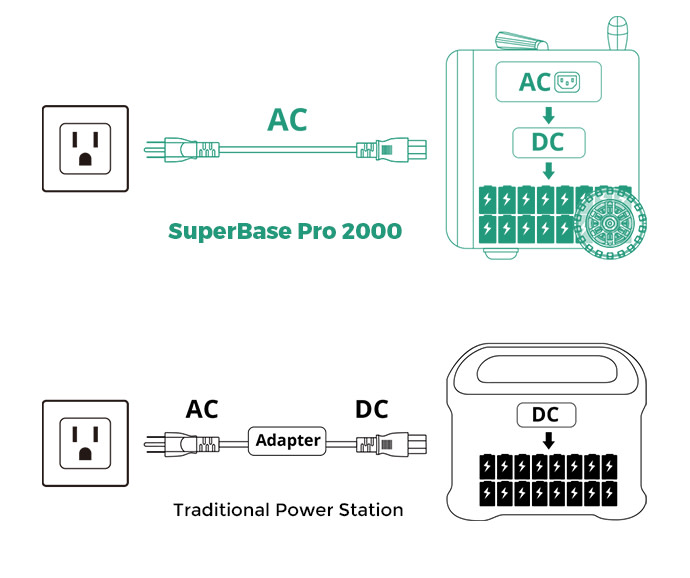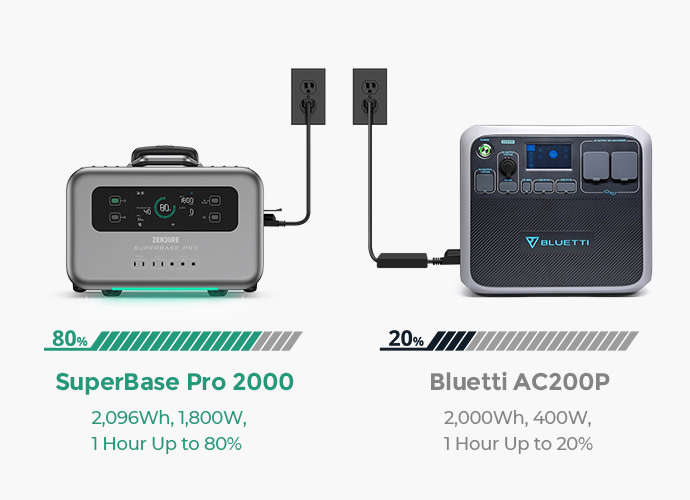 If green energy is your thing, SuperBase Pro 2000 can handle solar arrays of any size up to 1,800W. Our patented PVMax tech means your solar setup can charge SuperBase Pro 2000 with the same superfast performance you'd get from conventional charging. That's one hour for an 80% charge, and two hours for a full charge.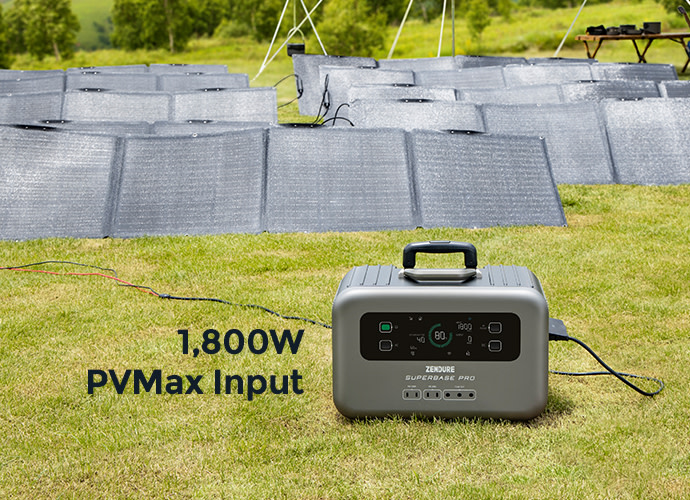 PVMax is a patented protocol utilizing High Voltage Solar Technology (HVST) conversion to deliver up to 1,800W from solar arrays that provide 60-160V. SuperBase Pro 2000 comes with an MC4 to AC female cable, so setup is really simple.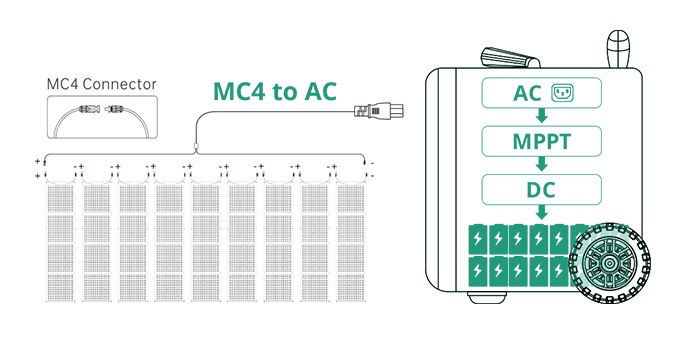 You can also charge SuperBase Pro 2000 using solar DC power at up to 600W. We use the latest MPPT technology, enabled by a Texas Instruments processor, so SuperBase Pro 2000 can be charged at 12-60V, up to 600W, through the XT60 port.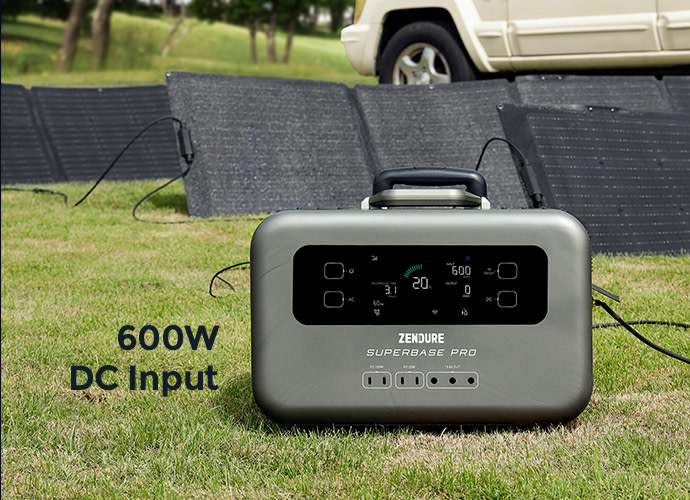 Want even more speed? If you hook SuperBase Pro 2000 up to a wall outlet and a solar array at the same time, you could get up to 2,400W of charging power. There's fast, and then there's fast.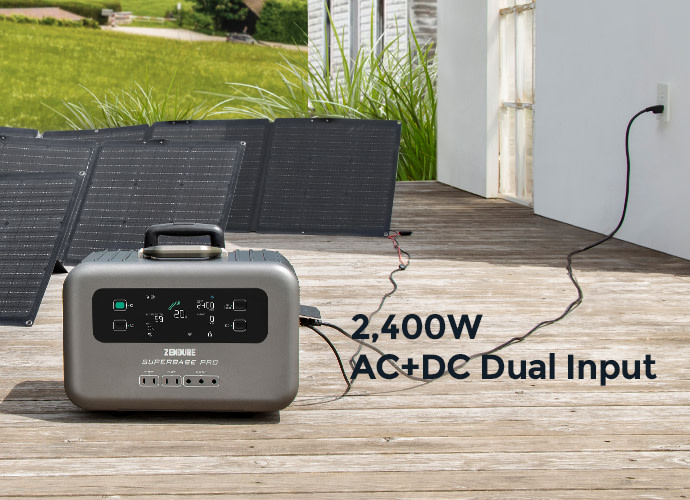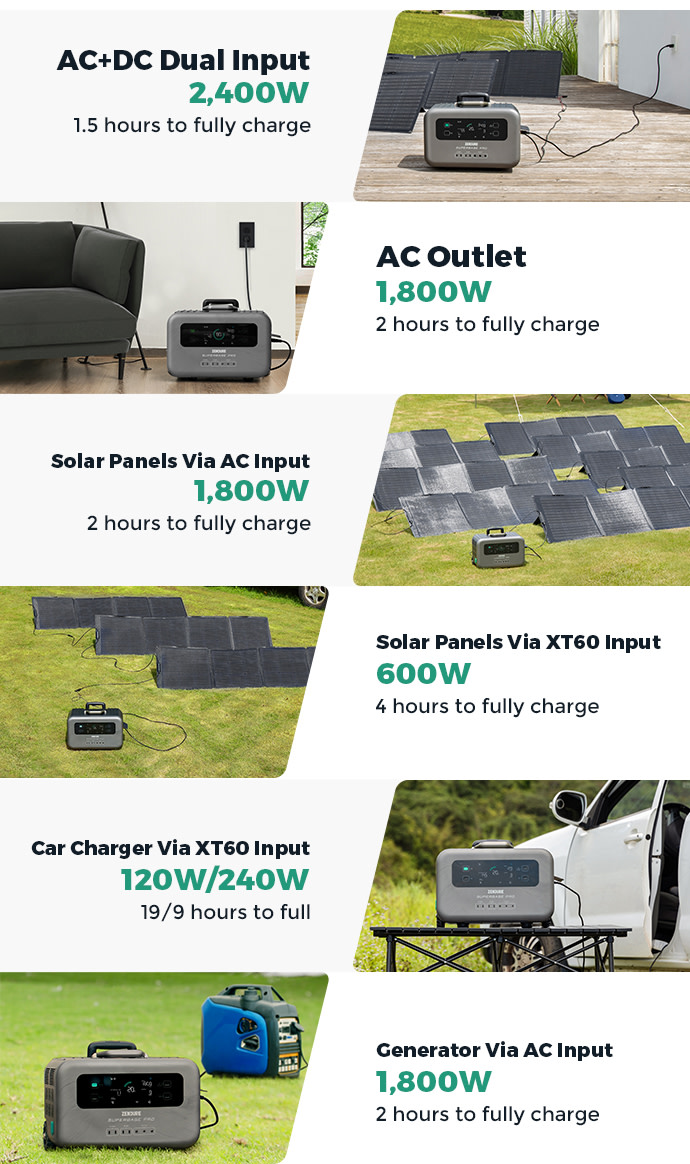 At home, SuperBase Pro 2000 has you covered. With 2,000W of AC output and 4,000W surge capability, you can power your microwave, washing machine, coffee maker, or other essentials around the house, worry-free.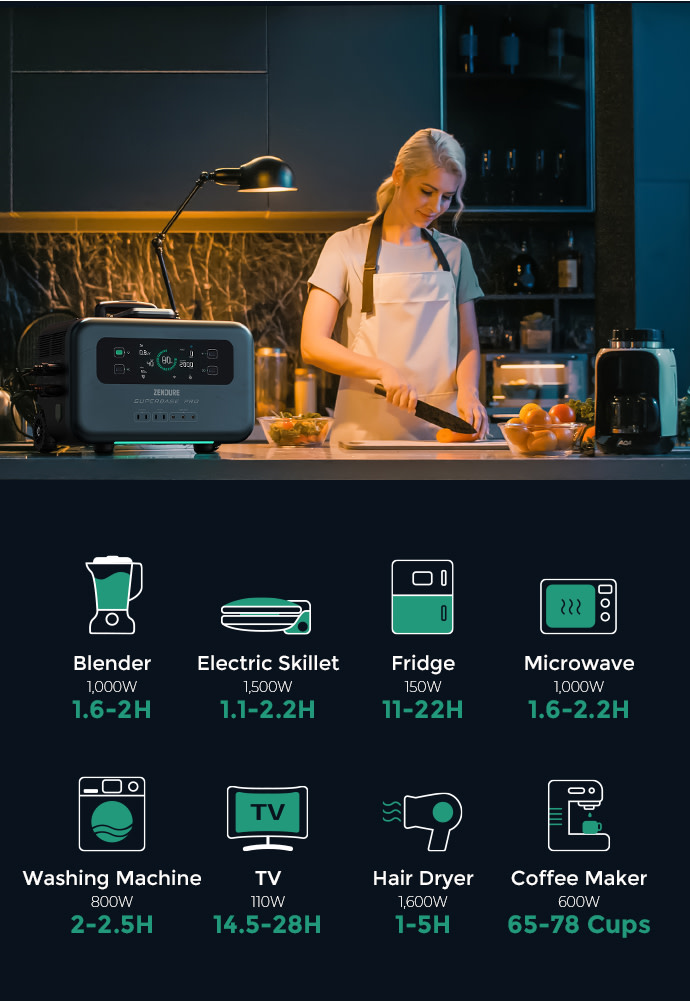 If you like camping, you'll love SuperBase Pro 2000's 2,096Wh capacity. Use your off-grid camping gear for hours on end. SuperBase Pro 2000 is the perfect power solution for on-the-go events. Devices such as laptops, led lamps, drones, mini fridges and projectors can be powered by it for a prolonged period.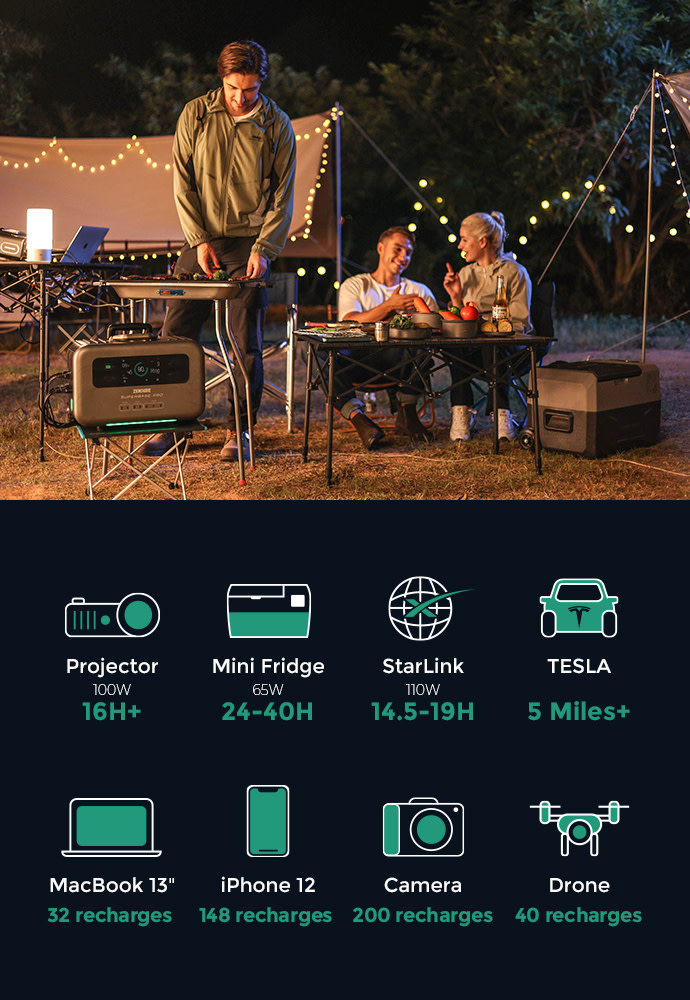 SuperBase Pro 2000 can even be an emergency backup for your Starlink and electric vehicle.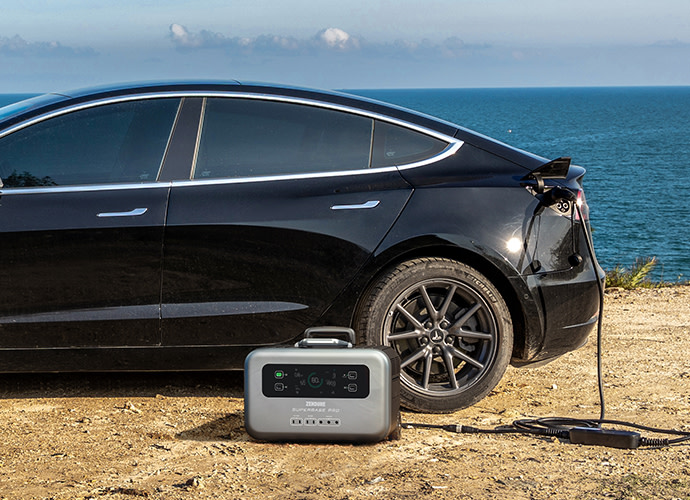 While SuperBase Pro's maximum output is 2,000W, it can power devices that typically need up to 3,000W, thanks to the AmpUp feature. This means SuperBase Pro is even compatible with heavy-duty appliances and power tools.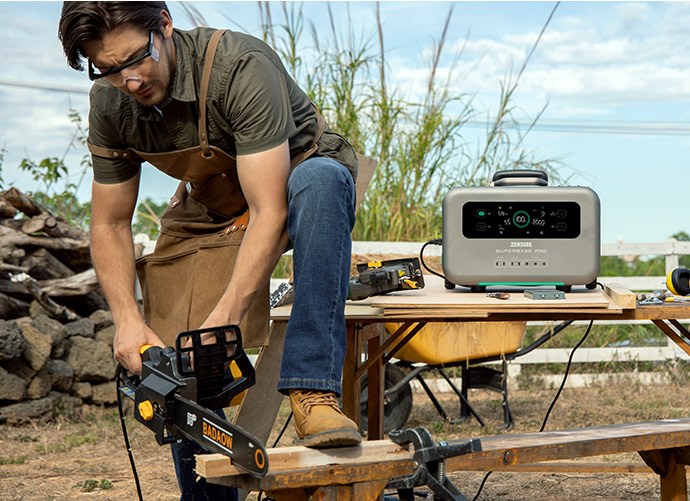 AmpUp* is our patented Dynamic Voltage Output technology. When power-hungry devices need a high starting current, AmpUp can lower the output voltage to compensate, allowing for higher current at the same output power. And since a pure sine wave output is maintained, it's completely safe.
An unexpected blackout can be a huge headache. If you're working on your computer, you could lose important progress. Even worse, a sudden power interruption can actually damage sensitive electrical equipment.
That's why SuperBase Pro has household grade Uninterruptible Power Supply (UPS*) functionality built right in. And it's super easy to use. Just connect SuperBase Pro 2000 to a power outlet, connect your essential devices to SuperBase Pro 2000, and you're done. If the power goes out, SuperBase Pro will switch over to battery power automatically.
*UPS is applicable to electrical appliances below 2,000W.

With industrial-grade wheels, a telescopic aluminum handle, and a low center of gravity, SuperBase Pro is designed with "anytime, anywhere" in mind. And as you're rolling it across the terrain, you'll find that it's sturdy enough to stack another item on top if you need to.
The ridges along the top and back aren't just for looks. Zendure has a reputation for durable products, and SuperBase Pro is no exception. The outer shell is shock resistant, and the interior is reinforced against collisions, making SuperBase Pro a rugged and reliable outdoor companion.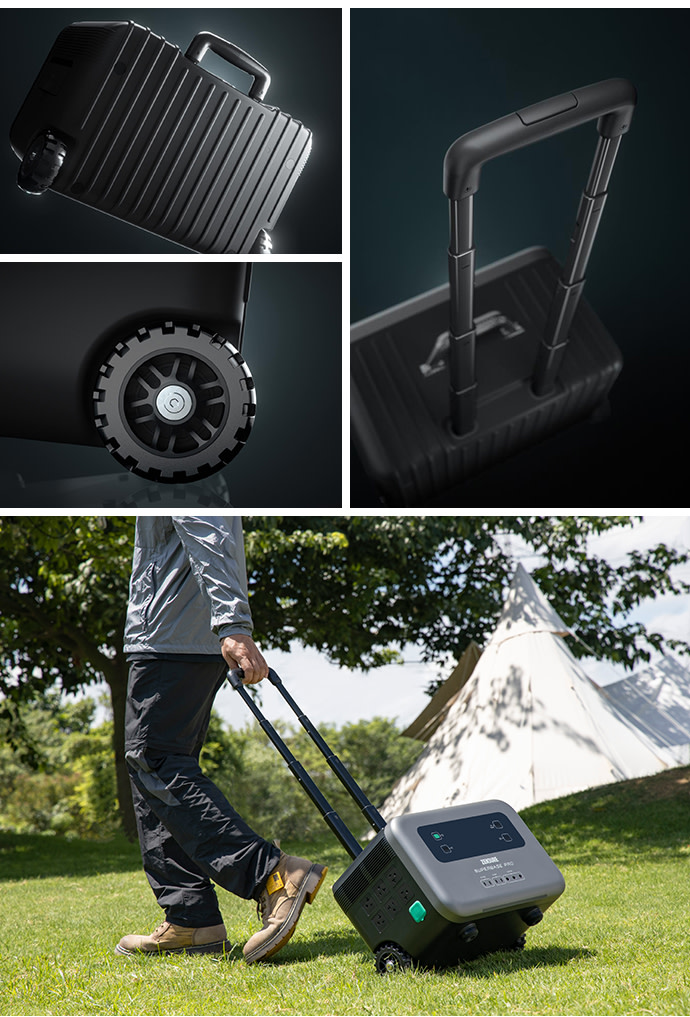 Are 14 output ports too many? We didn't bother to ask when we designed SuperBase Pro. Better to have them than to need them.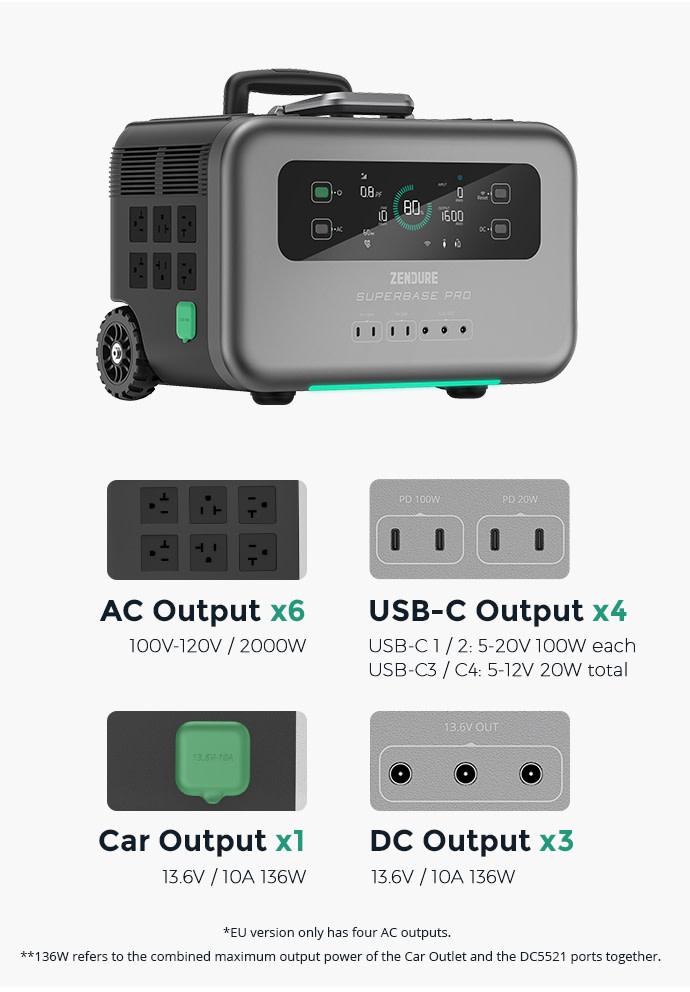 And these aren't vanity ports. Case in point: SuperBase Pro's 100W USB-C ports can charge a power-hungry 16″ MacBook Pro at the same speed that users are already accustomed to, without the need to carry around a proprietary power brick.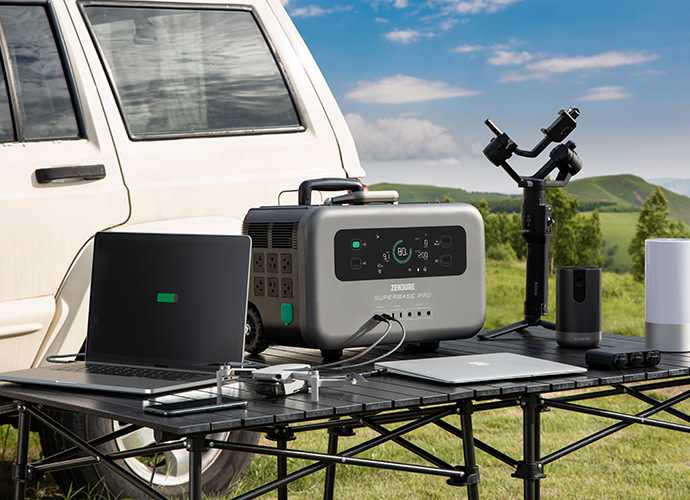 SuperBase Pro's 6.1″ display shows real-time information about power usage, remaining charge, environmental conditions, and so much more.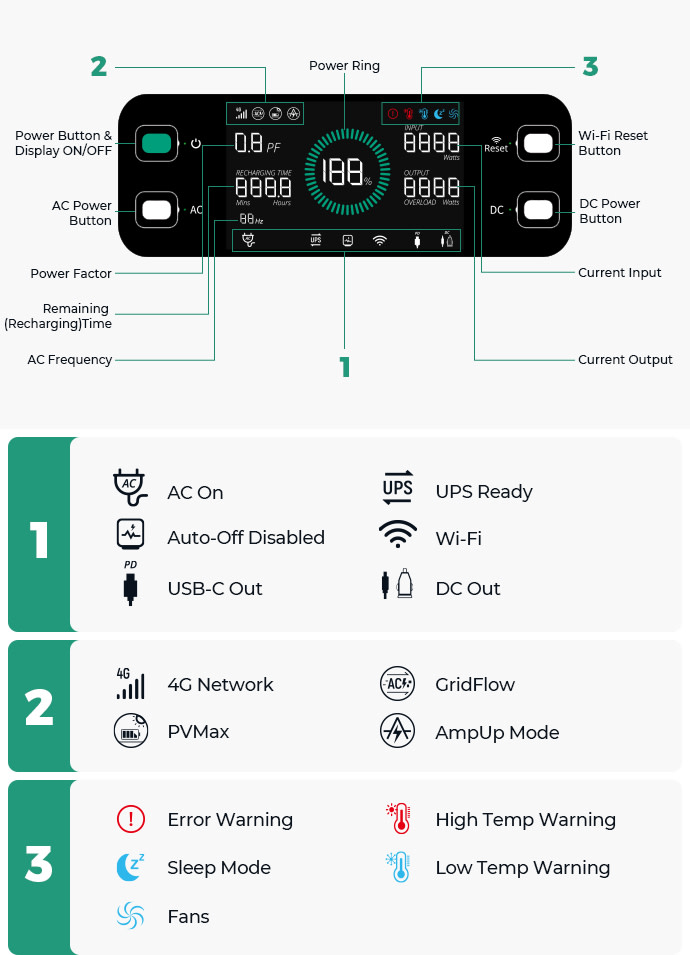 SuperBase Pro 2000's battery can run 3,000 cycles to 60% capacity, or 1,500 cycles to 80% capacity.  It uses the most advanced EV-grade NMC batteries, which have been widely used in high-end electric vehicles. The high energy density and stable performance of NMC batteries offer high capacity in a compact package.
Another new member of the SuperBase Pro series, SuperBase Pro 1500, uses LiFePo4 batteries to achieve longer life cycles with a large 1,456Wh capacity. This unit can run 6,000 cycles to 60% capacity, or 3,000 cycles to 80% capacity.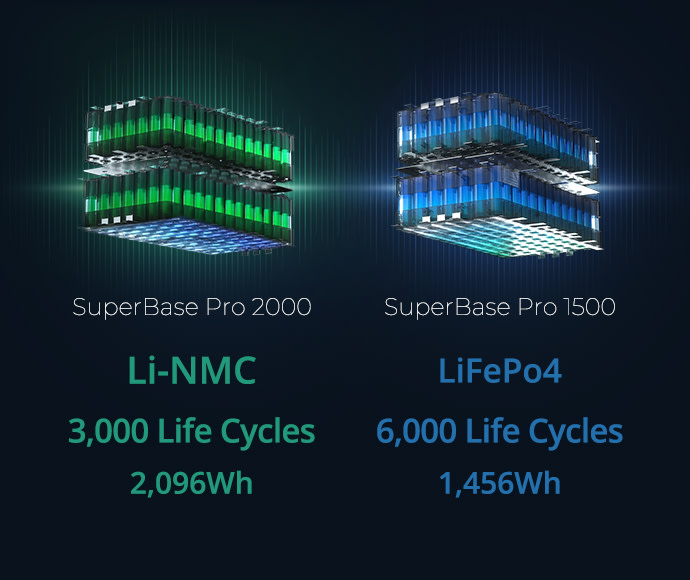 Some power stations on the market have controls that can only be accessed when you're physically near the device using Bluetooth or a direct Wi-Fi connection. That's very limiting. What if you're using it remotely, and you want to check its status? What if you want to track the position of your power station to protect against theft?
Fortunately, SuperBase Pro has built-in GPS and 4G IoT (Internet of Things) hardware, so as long as you've got a 4G signal, you can manage your power station from anywhere. Check the location, remaining charge, and output power of your SuperBase Pro, all in real time.
SuperBase Pro supports Wi-Fi network connection as well as direct connection using the built in Wi-Fi module. So even if there's no Wi-Fi network available, you'll still have easy access to your SuperBase Pro through the app.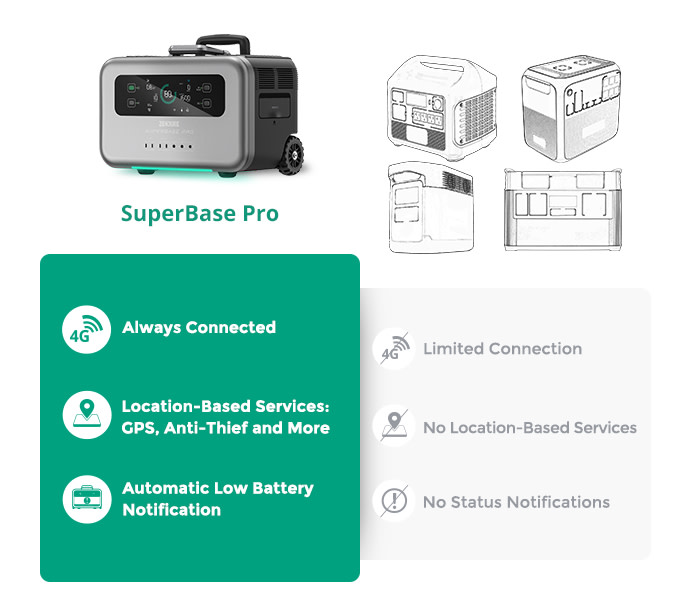 When you buy SuperBase Pro, you get a free year of 4G service, which works in 120 countries. That's a $99 value!

Amazing hardware deserves equally amazing software. Theft protection and remote status updates are just the tip of the iceberg. Our companion app for SuperBase Pro gives you remote control, location services, and access to lots of advanced features. Here are just a few of the things you can do with the app: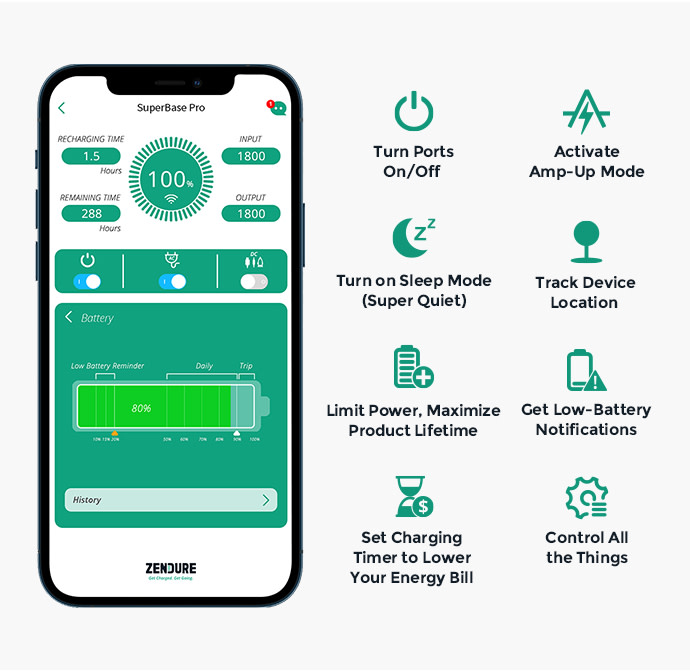 Our goal is to provide the best possible user experience and the best possible performance with our products, so we're constantly innovating. That innovation shouldn't stop after you receive your SuperBase Pro. That's why our new power station supports Over The Air updates (OTA).

Zendure is committed to making our planet better for the next generation. As a direct competitor to fuel-powered generators, SuperBase Pro is already a green-energy product. But we knew we could go even further. Now, environmentalism isn't just in our DNA; it's also in our source code.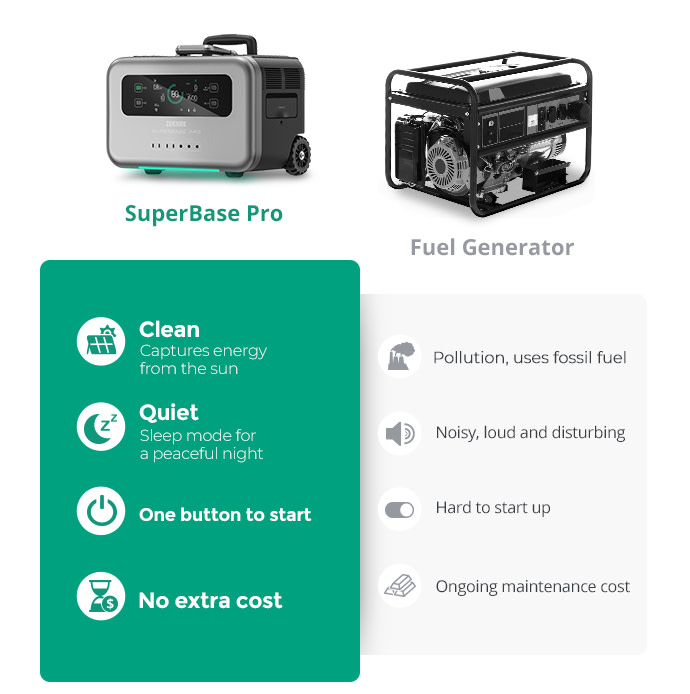 When you use green energy, you're reducing the amount of carbon that would otherwise be released into the atmosphere. SuperBase Pro keeps track of your carbon reduction and puts that data into your personal ZenForest. You can compare your green energy use with friends across the globe.
But your ZenForest isn't just some pixels on a screen. As you collect carbon reduction points in the app, real trees will be planted around the world on your behalf. We're working with OneTreePlanted.org to make this happen. With your help, we're hoping to plant 10 million trees by 2025.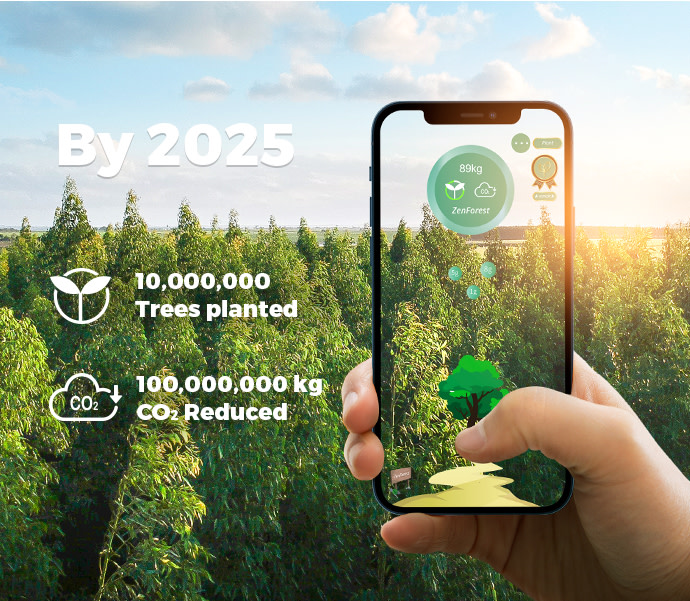 With so much power and so many features, SuperBase Pro has a lot going on under the hood. That's why we used the best components we could get our hands on.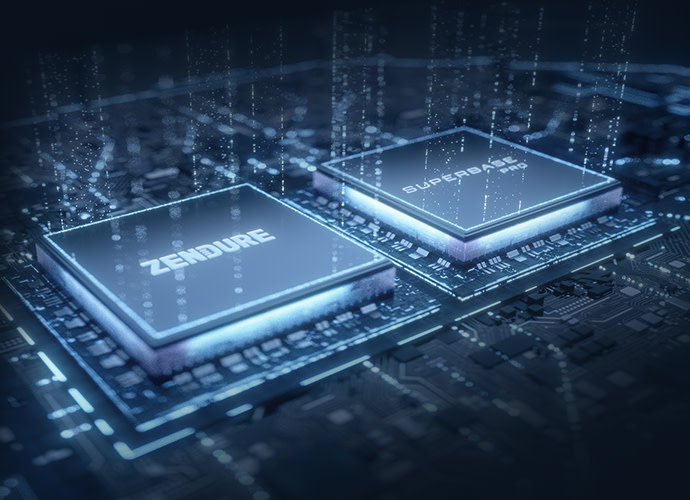 Patented Power Management System: converts DC to AC, and AC to DC in the most efficient way, with an overload protection switch and a clear ground indicator.
Intelligent Temperature-Activated Fan: keeps SuperBase Pro cool, further protecting the battery.
Solid Craftsmanship: SuperBase Pro was designed to have a low center of gravity, mitigating rollover risk. The industrial wheels and aerospace-grade aluminum drawbar are built to handle difficult terrain.
Advanced BMS (Battery Management System)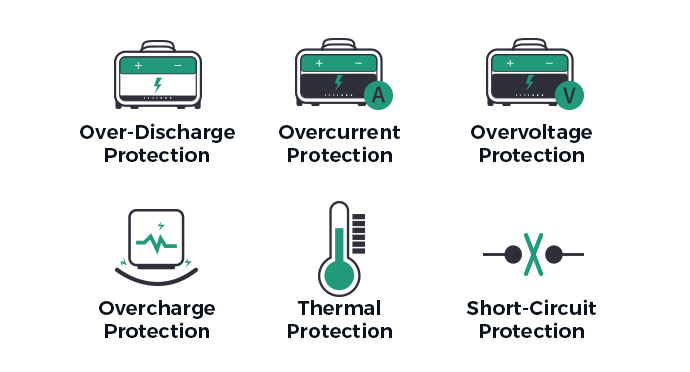 Certification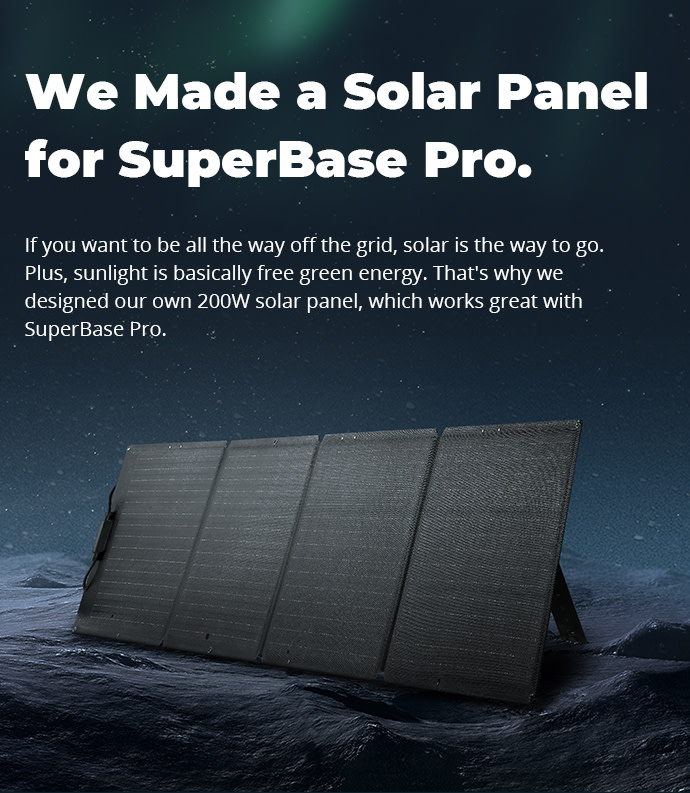 High Efficiency
Our solar panel uses advanced technology to soak up as much sunlight as possible. New-generation monocrystalline solar cells maximize the conversion efficiency, performing up to 22.5% better than similarly rated polycrystalline solar panels in low-light conditions. It also has an adjustable kickstand to put the panel at the ideal angle for maximum yield.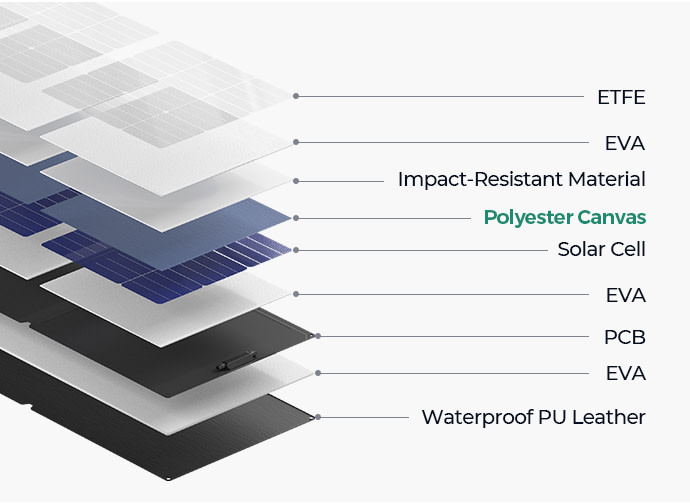 Portable, Durable, and Waterproof IP67
We wanted to make sure our solar panel could keep up with SuperBase Pro. This meant it had to be easy to carry around, but also built to withstand the elements, as well as the hazards of travel. Whether it's folded up for transport and storage, or unfurled and ready for action, our solar panel is a rugged and capable companion for any outdoor excursion.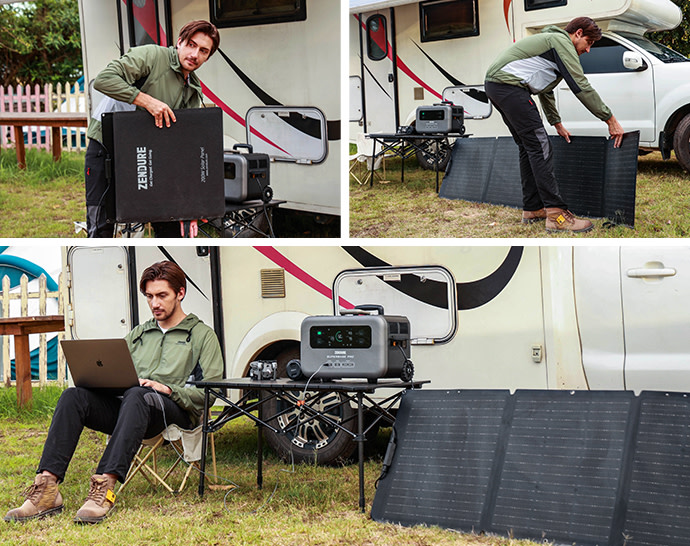 Strength in Numbers
If you want even more power, our solar panel can be connected in series with other solar panels. SuperBase Pro can charge at up to 1,800W. You can assemble your own solar array for maximum charging performance!