You read that right:
30 mph
30 mile range
30% gradients
Delivery Guaranteed

Your contribution with us is a  guaranteed purchase, That means if you order a board with us, you will get the board, guaranteed.
It's fast. It's discreet. It's Sturdy.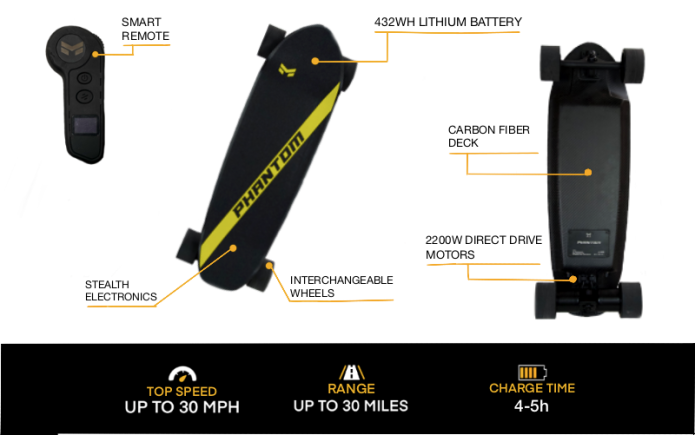 Features: Internal battery, smart remote, thin carbon fiber deck, direct drive motors, concealed electronics, & big comfortable wheels.
Don't let your board drag you down! The Phantom is light and portable. Bring it shopping, throw it in your locker or hand carry wherever you go.
Don't let the size fool you, The Phantom has powerful direct drive motors that can launch you to speeds over 30mph (105mm cloudwheels)
The Phantom's lithium battery packs so much juice, you can ride up to 30 miles per charge  (97mm stock wheels)
No more walking up hills. Hit the throttle and fly up them instead. Climb grades up to 30% with enough speed to carve around just for fun.
Skating is about pushing your limits.  The Phantom can take a beating and keep on cruising! The deck is made out of 100% Carbon Fiber giving it unmatched strength and a look that's guaranteed to turn heads!
Intuitive throttle dial
LCD display with:
Battery Life of Board and Remote
Odometer for the Current Trip and Lifetime of the board
Drive mode: Forward and Backwards
Speed Setting: Beginner (1), Expert (2), and Ludicrous (3)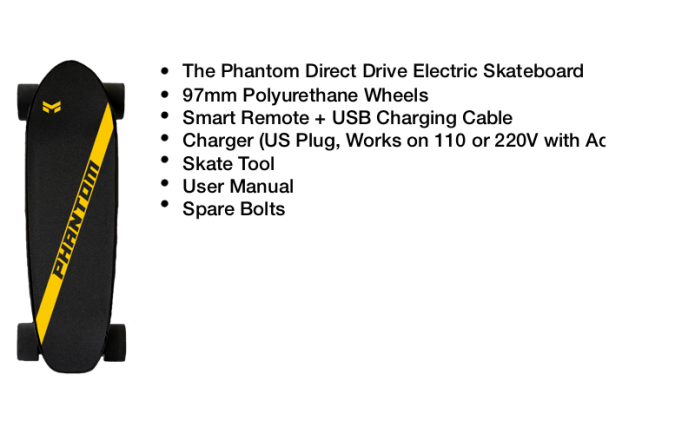 Everything From The Phantom PLUS: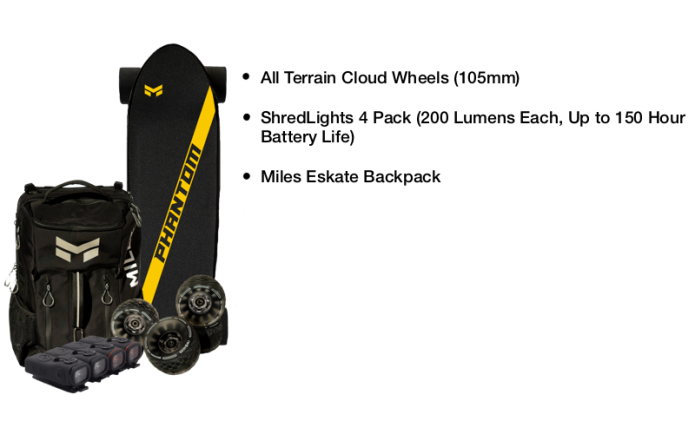 Frequently Asked Questions General
Can it really do 30mph?
Yes. This speed is based on real world testing with GPS tracking.
With the stock 97mm wheels, the Phantom can hit speeds of about 28mph. With the 105mm cloudwheels, the Phantom can hit 30+ mph.
How long does it take to charge?

Typically 3-4 hours, slightly longer if completely dead.

I'm heavy, can I ride it?If you weigh less than 270 lbs, that's a big YES. Though we often ride 2 up for a combined weight of ~350lbs, we can't officially endorse it. Performance will decline with increased weight and the boards are not officially tested past 270lbs.

I'm tall, can I ride it?

Yes, there's no height limit and the board is very stable for all folks short and tall.

Can you ride it without the battery or remote?

Yes! The motors are precision engineered for the least drag possible. Boards with belt motors, are a drag to push with no power. The Phantom is a breeze to push and cruises smooth.
Is there a warranty?
Yes, we've got your back with a 6 month warranty that covers the entire board from defect or malfunction under normal use. If anything on the board should stop working, just hit up our expert technicians will help you diagnose and get you rolling again in no time! The warranty doesn't cover damage from misuse (including water damage), tampering or unauthorized alterations/repairs.
What if it's past the warranty or I broke it myself?
No stress, we still have your back with excellent support (from real humans in the US) and will help you purchase the correct part to get rolling ASAP.
Does the Phantom have lights?

The VIP Pro Bundle comes with the latest and greatest SL-200 Shredlights. They've got 200 Lumens of brightness each (2 headlights, 2 tail lights) and can run for up to 150 hours.

Does the Phantom have lights?

The VIP Pro Bundle comes with the latest and greatest SL-200 Shredlights. They've got 200 Lumens of brightness each (2 headlights, 2 tail lights) and can run for up to 150 hours.

Where do you ship? How long will it take? How much is shipping?

After we build the boards, most orders outside the US will ship directly from the factory and arrive approximately 2-5 weeks after shipment.

US orders will be shipped via container to San Diego and then via courier to your door, they'll arrive approximately 6 days after shipment from the factory.

Can I pick mine up in San Diego to avoid the shipping charge?

Sorry, we can't offer local pickup. We expect a very busy shipping season and to speed up all deliveries we will be shipping via UPS, Fedex and other couriers.

Do I need to wear a helmet?

We strongly recommend wearing a good helmet, especially considering the high speed of the Phantom. Accidents happen (ask Rob : D ). A helmet can protect you from serious brain damage and even death. Not only that, it's the law in many places. Bottom line: you and you alone are responsible for your own decisions, not us, not anybody else. Please don't come crying to us if you crack your skull or get a ticket. We trust you'll make the right decision for you each time you ride.

Is the Phantom legal to ride on my roads?

Please check the regulations of your jurisdiction to find out where you can or can't ride. Above all, ride safely and responsibly. Your destiny is in your hands. We just help you get there faster.

Will the charger work with 120V and 220V outlets around the world?Yes, the charger is rated 100-240V the standard charger is a US plug. We'll do our best to match the plug to your country but no guarantee as this detail can slow shipping for all orders. If so you may need a plug adapter.

We have a rock-solid track record and we guarantee the shipment of every single board.

59